Opromo 女人镂空宽边草海滩太阳帽蝴蝶结软帽
¥28.44
描述
特征
材料:纸草和塑料网
头围:22"22.75"/56~58cm;帽子深度:5.5英寸/10厘米;帽沿长度:5.5英寸/14cm。
这种草帽具有宽帽檐风格,豹纹蝴蝶结装饰,轻便透气设计使您穿着舒适。
设计有弹性的颈带,允许多种头部形状和大小。这种编织草帽是女士的理想礼物。
洗涤指示:只干洗
描述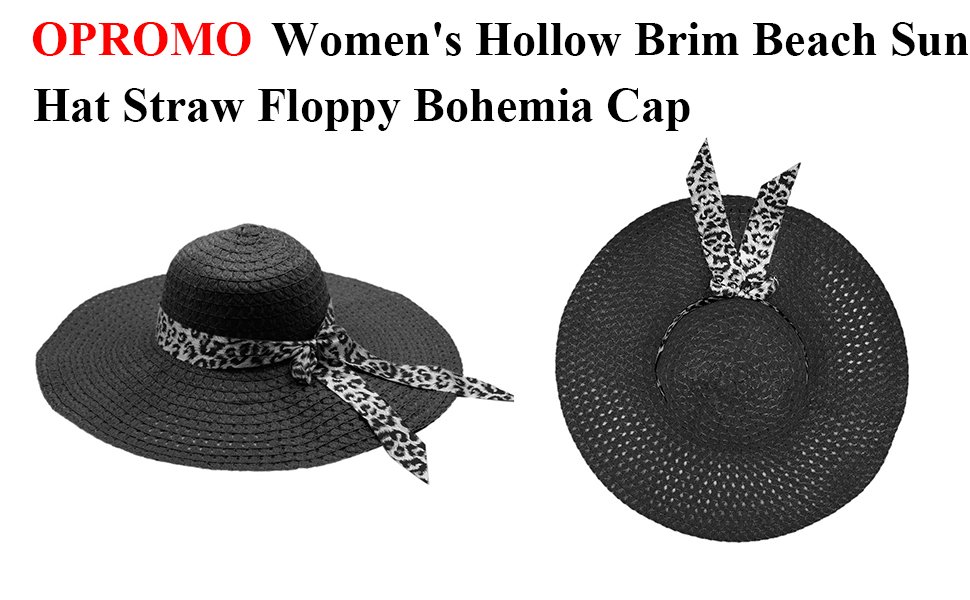 材料:纸草塑料网

头围:22和034;22.75和034;

帽沿长度:5.5和034;

帽子深度:4和034;10cm

洗涤指示:只干洗

若因长时间输送而造成皱褶,则用平挂熨烫机将帽檐和帽冠稍稍晾晒,晾干,然后很快恢复帽子形状。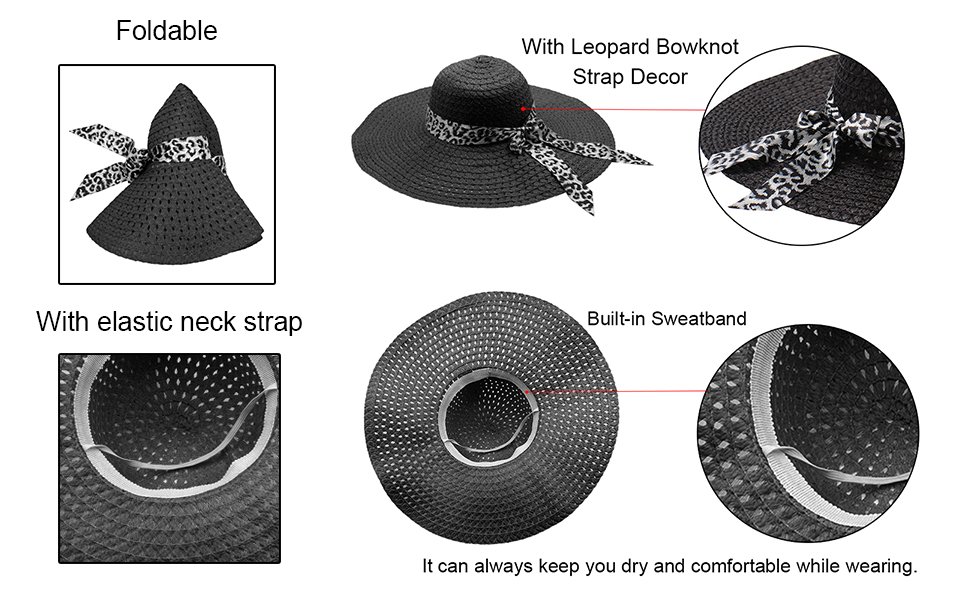 这种草帽具有宽帽檐风格,豹纹蝴蝶结装饰,轻便透气设计使您穿着舒适。

设计有弹性颈带,允许多种头部形状和大小。具有内部汗带的特点,可以始终保持干燥和舒适的同时佩戴。


宽边设计可以保护你的脸和肩膀免受强烈阳光的伤害。

可折叠、柔软,便于包装,携带方便。

完美的海滩,公园或假期,蜜月等,让自己更迷人,这个伟大的蝴蝶结帽子。
Opromo Women's Hollow Out Wide Brim Straw Beach Sun Hat Bowknot Floppy Cap
FEATURES
Material: Paper Straw & Plastic Mesh
Head circumference:22″-22.75″/56-58cm; Hat Depth: 5.5″/10cm; Brim Length:5.5″/14cm
.This straw hat features in wide brim style, with leopard pattern bowknot strap decor.Lightweight & breathable design enables you to wear it comfortable.
Designed with elastic neck strap, allows a variety of head shapes and sizes.This braided straw hat is an ideal gift for ladies.
Washing Instruction: Dry clean only
DESCRIPTION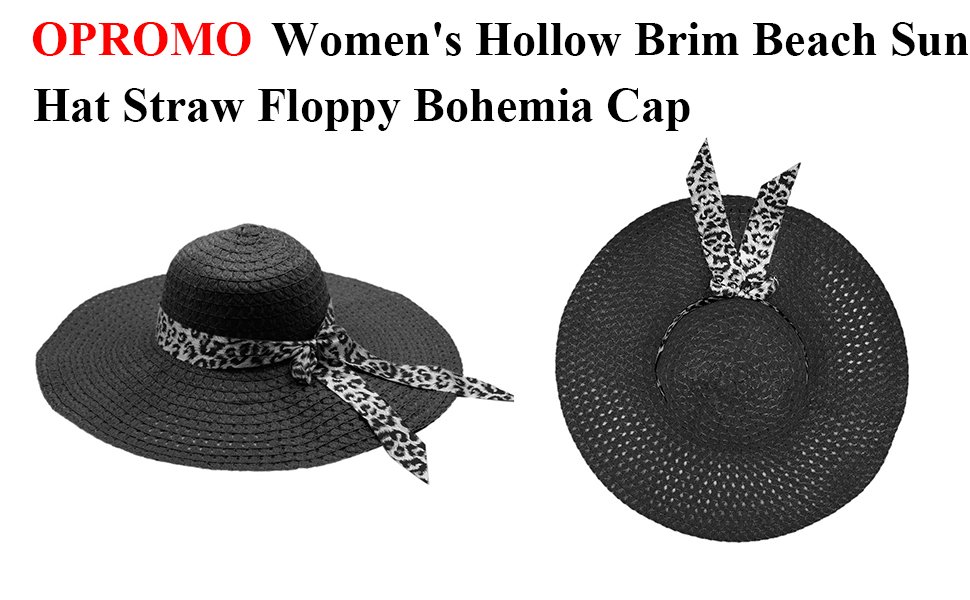 Material: Paper Straw & Plastic Mesh

Head circumference: 22"-22.75"/56-58cm

Brim Length: 5.5"/14cm

Hat Depth: 4"/10cm

Washing Instruction: Dry clean only

In case it's creased because of long time delivery , lay hat flat , use hang ironing machine to steam the brim and hat crown slightly, and let it dry in the air; Then the hat shape will be recovered soon.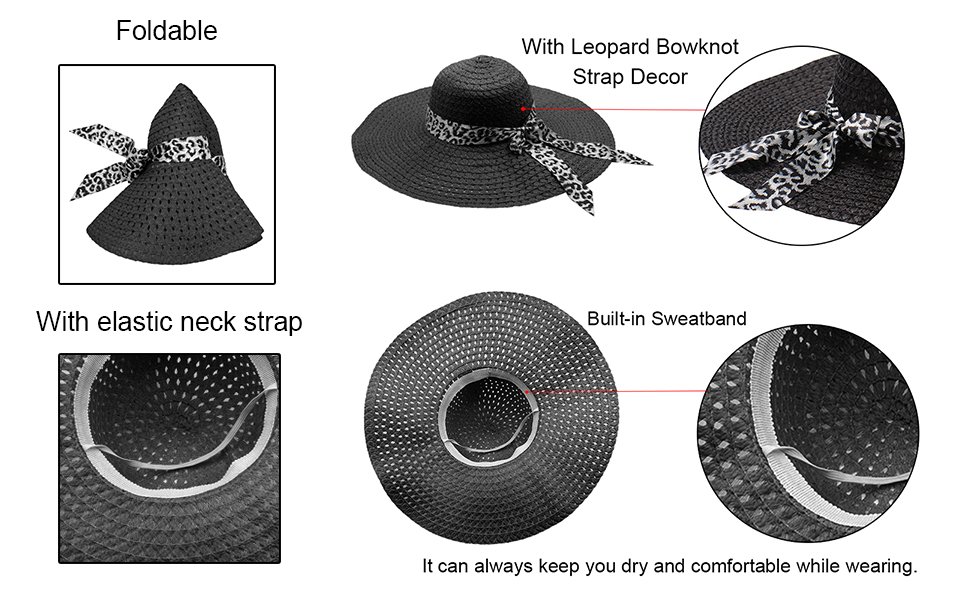 This straw hat features in wide brim style, with leopard pattern bowknot strap decor.Lightweight & breathable design enables you to wear it comfortable.

Designed with elastic neck strap, allows a variety of head shapes and sizes.Feature with an internal sweatband,can always keep you dry and comfortable while wearing.


Wide brim design can protect your face and shoulder from strong sunshine.

Foldable and soft brim is easy to pack up, convenient to carry.

Perfect for the beach, park or vacation, honeymoon etc.Make yourself more charming with this great bowknot hat.